❊ ❊ ☾Feminine Roots Yoga Teacher Training☽ ❊ ❊
October 2023
Dear Women, you are most welcome to join us for the Feminine Roots Yoga Teacher Training course. I am offering a unique 300hr training that will be discussing the female blood roots of yoga presented by historian Vicky Noble, Tantric Scholar Ramesh Bjonnes and feminist historian Monica Sjoo. This offers us insight into the potential of just how ancient this practice really is and how its roots are shamanistic, celebrating the natural powers of 'bleeding, birthing, healing and dying. This course is inspired through my own felt sense of many years of practice and later through research and study of yoga as an earth based spiritual practice.
The course will take place over a 13 lunar cycle. Beginning at Samhain and moving through the celtic wheel of the year we will journey through the monthly and seasonal cycles aligning us with earthly and cosmic cycles of time. As we establish our connection to these natural cycles we learn the essential medicine of respecting our own inner time along with our monthly menstrual cycle.
There will be a focus on lunar magick harnessing the lunar energies for our daily tasks as well as our spiritual development. In this way we develop our relationship with the lunar rhythms that are encoded in our female bodies helping us remember our intimate connection with grandmother moon.  " The moon womb shaped, her vagina moon crested, her menses moon blood, her juices moon nectar, her tears the pearl drops of the moon light, her hair the moon mane, her eyes the light and dark moons.  How much more strongly then is a woman affected then by the changing ever generating rhythm of the moon" – Maya Tiwari
The course offers a unique approach to the practice of yoga, we offer a way to experience yoga as a devotional practice, using movement as prayer, as an offering to the Divine Spirit. We incorporate ritual dance into some of the classes. Dance offers the body a language to express these hidden aspects, it allows the soul to communicate that which cannot be expressed through words, dance provides both a physical and emotional release freeing up pathways of energy and releasing density.
The course includes a week long immersion into a reclaiming of your erotic innocence and the body as sacred vessel. You will be introduced to pleasure as a pathway of opening up to your potential.  During this week a sacred container will be carefully created with a trauma sensitive approach to unlocking this vital key.  This week has the potential to  be deeply transformative offering a completely new way to relate to your body and your sexuality.
Feminine roots training  is intended to awaken an understanding of the more mystical aspect of womanhood, through a reclaiming of womb consciousness we can experience how by simply connecting to our physicality we gain access to the truth of where our true feminine power lies, in the sacred temple of our pelvis, everything we have been conditioned to fear our moon blood, our bodies and our orgasm opens us to our divinity .  Reclaiming the deeply held power within the womb is an intimate and sacred journey that is every woman's birthright.  As we learn to embody the vastness of our true feminine nature we learn to move graciously through each threshold of our life cycle as a gateway of initiation to claim our sovereignty as a walking, living breathing incarnation of the Divine Feminine Goddess. 
.
Course Components
Herstory of Yoga
Ancient Goddess Culture
Lunar Magick
Menstruation – Feminine path of Transformation
Herbalism for Womens Spirituality & Healing
Cosmic Anatomy of Women
Reclaiming Womb Consciousness
Feminine Flow Yoga
Moon Salutations
Body Prayer
Dance of the Womb
Yoga Nidra & Dreamwork
Female Pelvic Anatomy
Pelvic Awakening –  Embodying Female Power
Sacred Body- Reclaiming Erotic Innocence ( Week Retreat)
This teacher training course offers you the opportunity and skills to present something unique in the world of yoga and holistic health, through your own dedication to the ancient feminine arts you will develop and ability to present  classes,workshops & retreats that are connected to the feminine roots of Yoga & Ayurveda
Investment- 3500euros- Deposit- 1000euros (Early Bird 3000euro)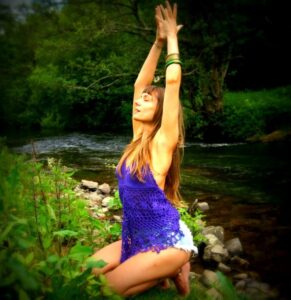 Facilitators
I am Clara Doyle, 
I am Yogini, Ritual Dancer,, Lunar Witch,  Weaver of Earth Magick.& Deep Soul Embodiment.
I have dedicated my life to a sacred path and moved through different levels of inner initiation, learning and growth that has led to the creation of this training. I walk with a passionate heart to support those who come to me in search of inner transformation & growth. 
As an intuitive facilitator my medicine is an acute sensitivity and emotional intelligence that allows me to hold with great care & presence each individual as they move through the unfoldment of their own inward journey.  it is a great honour for me to walk beside those who choose the path of deep inner alchemy & soul embodiment.
I have been teaching & facilitating for over 16years. For the past 8years I have worked primarily within the sacred container of a Women's Circle. The deep healing that I have personally experienced and witnessed within these circles is an  inspiration for the way that I work. The circle offers us a new way of relating, here within the circle we find strength, courage, support, compassion and most importantly we experience the power of sisterhood.  
Sister you are so welcome to come and join me for this unique training. With Love Clara